Candy Bag Professions -- Hairdresser
Hoop: 5x7 & 6x10 Formats: pes, hus, jef, dst, shv, vip, vp3, exp, xxx

This cute set includes three designs: bear hairdresser, frame, and text. You can sew each out independently or together as shown here.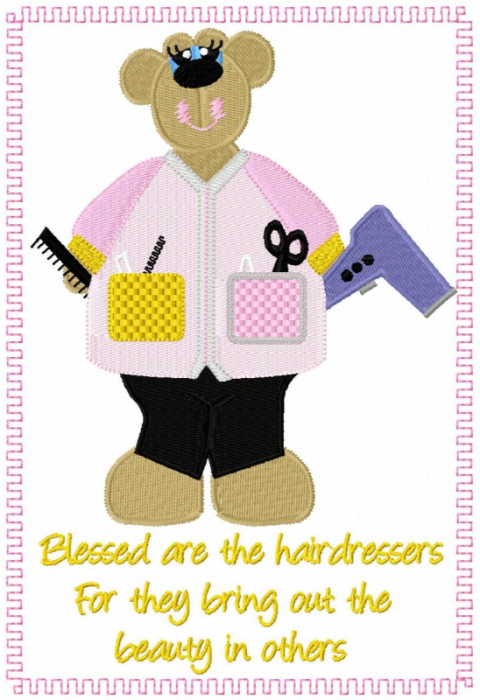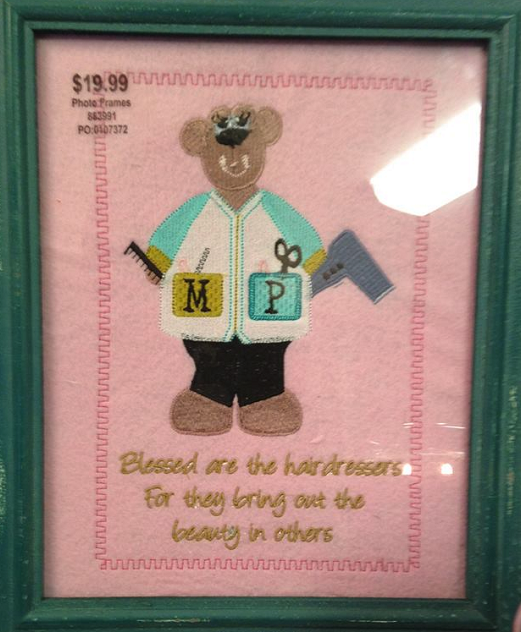 Sew Out By Gina South
The set gets it name because these are designed to reward special professions (more coming). You can sew these out on felt and frame it or sew these out on felt to make a goodie bag.
PROJECT: For a candy bag:

1. Sew out complete design on felt.
2. Cut another piece of felt the same size.
3. Sew a seam around all three sides.
4. Pink edges with pinking shears.
5. Be careful not to cut into decorative outline.
6.. With a hole punch make four holes in upper edge.
7. Two for each piece of felt.
8. Insert ribbon and knot. This will form the handles.
9. Fill with treats.

NOTE: Digital Download Only
You are purchasing machine embroidery designs. These are not hand embroidery or SVG.

Once your order is complete you will return to a download page.

You will also receive a backup email with download links.

Please check your email spam and trash folders.

You must download the file to your computer, unzip the file and have a way to transfer the design/s to your embroidery machine.

All design formats and sizes are included in a single zip file.

Duplicated a design?

This cart does not alert for duplicate orders or past purchases.

However, a store credit, substitution or refund will be made at the sellers discretion with seven days of purchase.

This does not include duplicates if purchasing a special bundle offer.

Orders made BEFORE 10/20/2017 are unavailable due to a database crash. Please back up your orders.

I cannot offer help regarding your embroidery machine, software, or computer related issues. Please direct those questions to the manufacturer.

All rights reserved Julia's Needle Designs.©
Follow Me Everywhere