FREEMIXERCOVER
Free Mixer Pattern
Designed for the Kitchen Aide Style 5 or 6 quart Mixer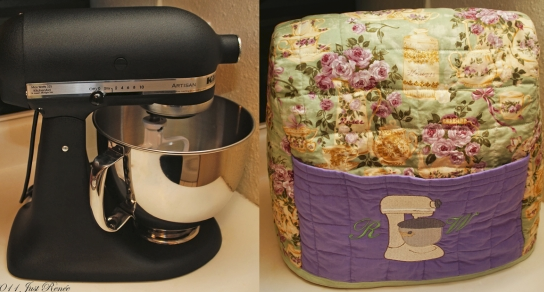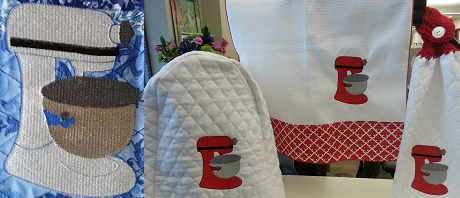 Click On Photo below To Download Mixer Design
PROJECT INSTRUCTIONS FOR YOU:
Supplies Needed:
One yard of pre-quilted fabric, Thread, Rotary cutter and mat, Scissors

Print out round section of pattern. (CLICK HERE)

Cut one piece of fabric 32" by 14". (For the 4-5 quart mixer) Mark the center of the long side.
Cut one piece of fabric 34" by 14". (For the 6 quart mixer) Mark the center of the long side.
Cut one piece of fabric 9" by 16". (For the 4-5 quart mixer) (this is for the front pocket)
Cut one piece of fabric 10" by 17". (For the 6 quart mixer) (this is for the front pocket)
Cut two of pattern piece B (rounded edges)

ADD 7-8" TO THE BOTTOM OF THE PATTERN PIECE BEFORE CUTTING OUT THE FABRIC FOR EXTRA ALLOWANCE..
Mark the center top.
Front Pocket Section.
Turn under top of the pocket section and hem one inch.
Embroider your design now.
Place pocket section wrong side down on the right side of long piece.
Center and line up the raw edges. Serge or conventional sew down the sides.
Match the center of the long section of fabric with the center marking on the rounded pieces.
Sew the sections together from the top to the bottom edges. (use conventional machine or serger)
Repeat for both ends of the cover. Trim off any uneven edges if necessary.
Turn under bottom edge and hem 1" inch.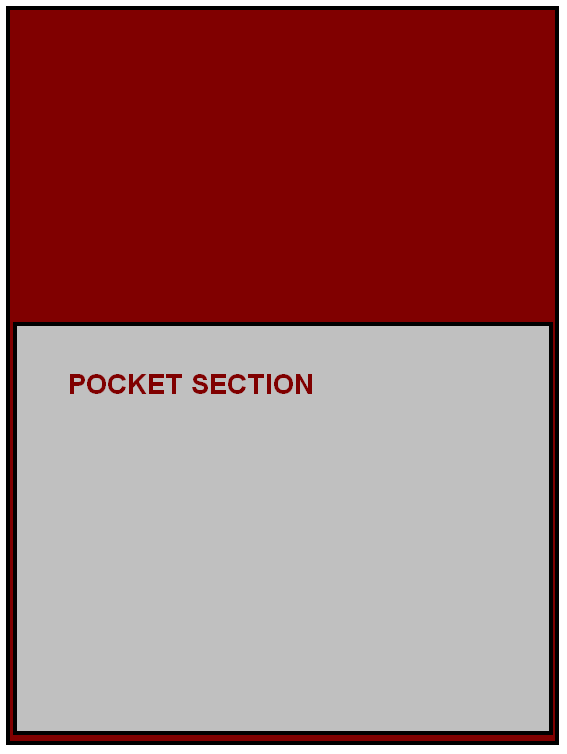 NOTE: Digital Download Only
You are purchasing machine embroidery designs. These are not hand embroidery or SVG.

Once your order is complete you will return to a download page.

You will also receive a backup email with download links.

Please check your email spam and trash folders.

You must download the file to your computer, unzip the file and have a way to transfer the design/s to your embroidery machine.

All design formats and sizes are included in a single zip file.

Duplicated a design?

This cart does not alert for duplicate orders or past purchases.

However, a store credit, substitution or refund will be made at the sellers discretion with seven days of purchase.

This does not include duplicates if purchasing a special bundle offer.

Orders made BEFORE 10/20/2017 are unavailable due to a database crash.
Please backup your orders.
If you need help please contact me.
How to Unzip A Digital File Click Here
I cannot offer help regarding your embroidery machine, software, or computer related issues. Please direct those questions to the manufacturer.
All rights reserved Julia's Needle Designs.©