Hoot Owl Treat Bag Inst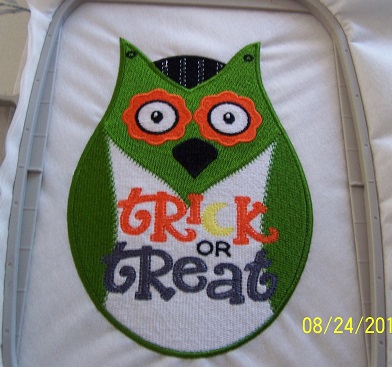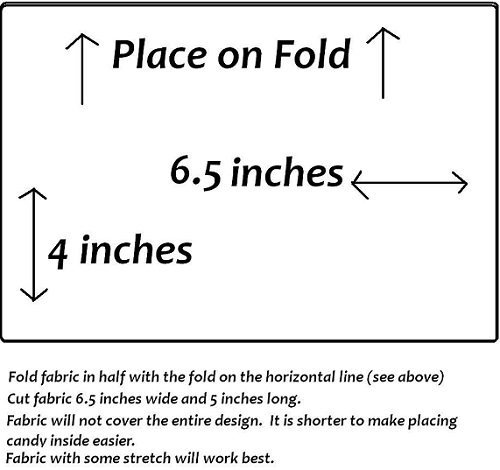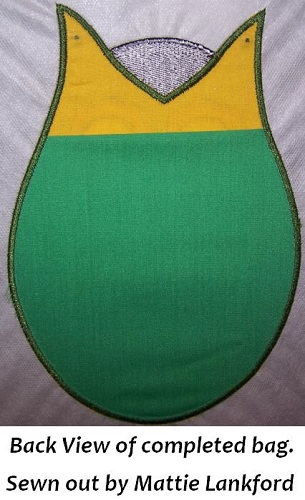 Supplies Needed:

Thread
2 Pieces of Grossgrain ribbon (for handle)
Solid Color Fabric
Halloween Print Fabric with a little stretch
Heavy Duty Wash A Way Fabric or Vilene
Spray Adhesive

Instructions:

Hoop 3 layers of heavy duty Vilene (Wash A Way) or Paper solvy (recommended)

Open up Owl Treat Bag design. PICKING PUMPKINS DESIGN SET

Sew out colors 1-10.

STOP. Remove hoop from machine. (DO NOT UNHOOP DESIGN)

Turn hoop over to backside.

Spray solid fabric with temporary adhesive.

Place solid fabric over design.

PREPARE HALLOWEEN FABRIC ACCORDING TO INSTRUCTIONS. (SEE PHOTOS)

Spray Halloween fabric with temporary adhesive.

Place halloween fabric over solid fabric.

Return hoop to machine.

Sew out color eleven. (Applique Outline)
Sew out color Twelve. (Tack Down)

STOP. Remove hoop from machine. (DO NOT UNHOOP DESIGN)

With scissors trim gently around the outer stich outline.
BE SURE NOT TO CUT THROUGH THE VILENE.

Return hoop to machine.

Sew out color number Thirteen. (Final Satin Outline Stich)

Remove hoop from machine.
Remove design from machine.
Trim away remaining Vilene.
With a damp warm water soaked sponge smooth Vilene away from the satin stitching.

Using a hole punch puncture the top two corners (black circle outines)
Cut two ribbons and insert them into the holes making a handle
Tie each end through each hole to secure..

Have fun.
NOTE: Digital Download Only
You are purchasing machine embroidery designs. These are not hand embroidery or SVG.

Once your order is complete you will return to a download page.

You will also receive a backup email with download links.

Please check your email spam and trash folders.

You must download the file to your computer, unzip the file and have a way to transfer the design/s to your embroidery machine.

All design formats and sizes are included in a single zip file.

Duplicated a design?

This cart does not alert for duplicate orders or past purchases.

However, a store credit, substitution or refund will be made at the sellers discretion with seven days of purchase.

This does not include duplicates if purchasing a special bundle offer.

Orders made BEFORE 10/20/2017 are unavailable due to a database crash.
Please backup your orders.
If you need help please contact me.
How to Unzip A Digital File Click Here
I cannot offer help regarding your embroidery machine, software, or computer related issues. Please direct those questions to the manufacturer.
All rights reserved Julia's Needle Designs.©